Our Food
Just Catering for Kids FULLY RUN Hot Lunch Program:
Here at Just Catering for Kids we are great supporters of helping build and maintain a healthy lifestyle for children and parents. Our diverse menu includes a variety of classic dishes that are a healthy twist to your child's favorite meals. We promote healthy eating, not only for children but for parents too.
Allergies
Just Catering for Kids meals are prepared in a NUT FREE facility. Our inspected kitchen follows protocols and strict policies that are followed up with during inspections. It is our top priority to ensure the health and safety of YOUR children. Parents are expected to identify their child's allergies directly on the order in the comments section. If parents have any additional concerns that are earged to call the kitchen directly.
Please contact
Phone: (905) 857 1061
E-mail: justcateringforkids@rogers.com
Our Catering services don't stop there:
Due to a high interest and love for our food, Just Catering for Kids also caters to Birthday Parties and other special events.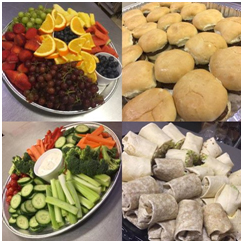 Birthday Party's
What's great about Just Catering for Kids Birthday Party's is that we are able to customize your menu order to your specifications. A representative from Just Catering for Kids will come in and not only set up the food but stay for the duration of the party to ensure that the event runs smoothly. We also provide you with the CAKE, which is also customized for you.
Additional Special Events
What is very unique about Just Catering for Kids is that we do everything. From parties at home to open houses, a representative from Just Catering for Kids is able to attend the event to assist you with anything that you may need.